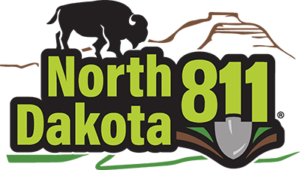 Know What's Below, Call Before You Dig.
Whether you call 8-1-1 or use ITIC to file your locate requests, North Dakota One Call makes sure you're able to navigate the one-call process as easy as possible. If you are a professional contractor working on a project or a novice homeowner installing a fence, contact us EVERY TIME YOU DIG to ensure no underground lines are damaged. It's easy, and it's the law. Dig safely.
Just a few simple steps prevent emergencies:
Call 811 to reach North Dakota One Call or visit www.ndonecall.com before you dig.
Trained technicians will mark the location of public utilities and pipelines at no cost to you.
To locate your private underground lines (sprinkler systems, invisible fences, etc.) visit the Private Line Locator Directory
Respect the line markers, leaving them in place while you work.
Dig with care.
FOR NATURAL GAS RELATED EMERGENCIES
CALL 888.933.9743, 24 hours a day